"We must've been through hundreds of books already and we can't find him anywhere —"

This article is lacking a section listing all of its known appearances in canon. Please help the Harry Potter Wiki by adding such a section, so that it conforms with our layout guide.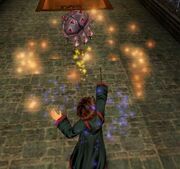 A Jinx is one of the seven known spell types, affiliated with dark magic and distinguished by their negative effects used mostly for the amusement of observers and the minor discomfort of the victim[1]. They can also be used in a defensive capacity, and hence students of Defence Against the Dark Arts may learn some them. Jinx effects can be removed by a Counter-jinx, and they can be prevented by an Anti-Jinx.
List of Jinxes
A
B
C
D
F
I
J
K
L
M
O
R
S
T
U
V
Behind the scenes
Appearances
Notes and references