Jelly Slugs are a treat found at Honeydukes Sweetshop. They are gummy candies that look like slugs. Obviously they are a very popular sweet because Harry overheard one of the staff saying that they were out and needed to get some more. Jelly Slugs are also sold at the Hogwarts Express food trolley.[1]
Behind the scenes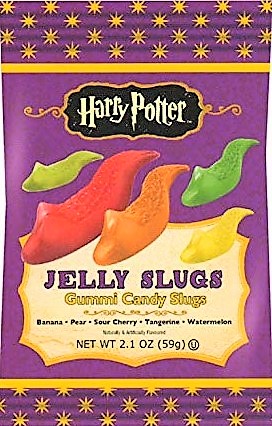 In the real world, there are actual Jelly Slugs candies.
Jelly Slugs are very similar to Gummy Worms, but longer.
Appearances
Notes and references
↑ Ronald Weasley is seen biting something in half that has strong similarity
Ad blocker interference detected!
Wikia is a free-to-use site that makes money from advertising. We have a modified experience for viewers using ad blockers

Wikia is not accessible if you've made further modifications. Remove the custom ad blocker rule(s) and the page will load as expected.