Jany Temime is a costume designer for all the Harry Potter films since Harry Potter and the Prisoner of Azkaban.
Behind the scenes
Edit
On the Half-Blood Prince DVD, Evanna Lynch did an interview with Temime to talk about the costumes of the film. Temime stated her favourite costume to design was probably Luna's Christmas tree dress she wore to the Slug Club Christmas party. Luna showed Temime something else she wore: A bracelet. The bracelet depicted a hare, just like her character's Patronus. Evanna says she made this too, and it took her about 45 minutes to make. Evanna tells Temime it isn't perfect, but it doesn't need to be, because Luna is spontaneous. Temime asked jokingly, "Are you going to tell me that if it was not for Luna you would have made it better than that?". Evanna responded simply with "Perhaps".
Temime made several changes to the existing costume designs, most notably the Hogwarts school uniforms and Quidditch robes. Temime wanted to bring a more modern approach to the costume designs.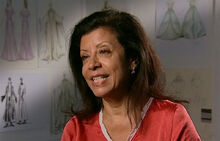 Appearances
Edit
Ad blocker interference detected!
Wikia is a free-to-use site that makes money from advertising. We have a modified experience for viewers using ad blockers

Wikia is not accessible if you've made further modifications. Remove the custom ad blocker rule(s) and the page will load as expected.