James Potter and the Hall of Elders' Crossing
Talk

0
11,365pages on
this wiki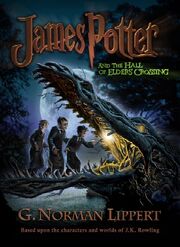 James Potter and the Hall of Elders' Crossing is a 360 page self-published online novel written by American computer animator George Norman Lippert in 2007. It is a fanonical continuation of J. K. Rowling's Harry Potter book series. Written as a fan fiction project for Lippert's wife and sons, the novel is set eighteen years after the end of the last official instalment in the series, Harry Potter and the Deathly Hallows, and describes the adventures of Harry Potter's eldest son, James Potter II, during his first year at Hogwarts School of Witchcraft and Wizardry.[1]
Plot
Taking place a year prior to the events of the Epilogue of Harry Potter and the Deathly Hallows, Harry's son James boards the Hogwarts Express on his way to begin his first year as a student at the famous school of magic. James is shy and nervous, deeply concerned about the tremendous Potter family legacy that he feels pressured to live up to. On the train, he makes two new friends: Zane Walker and Ralph Deedle. Both are Muggle-born, and Zane is an American, the son of a Hollywood movie producer temporarily living in Great Britain. Upon arriving at Hogwarts, James is sorted into Gryffindor, Zane is sorted into Ravenclaw, and Ralph into Slytherin.
Teddy Lupin invites James and Zane to join the Gremlins, a club of pranksters that includes himself, Lupin's friend Noah Metzker, and several other students from across Hogwarts' houses. The Gremlins sneak out of the castle through a secret passageway and play a prank, called "raising the wocket," on a Muggle farmer, who later reports that "Martians" have been stealing his tomatoes.
That year at Hogwarts, the school plays host to representatives from the American school of magic, Alma Aleron. These include students, representatives of the American Department of Magical Administration, and three teachers. These teachers are Professor Franklyn (who is actually Benjamin Franklin), Professor Jackson, and Madame Delacroix.
Like his father before him, James gets into much trouble, and gets entangled in a larger plot to destabilize the magical and non-magical worlds. This involves an organisation known as the Progressive Element, who wish to make the magical world known to the Muggles, and three relics which are believed to be able to bring Merlin to this day and age, at the Hall of Elders' Crossing.
Response by Rowling
On 19 November, 2007, The Scotsman reported that Rowling had threatened legal action against Lippert for allegedly violating her intellectual property rights by producing and publishing the novel.[1] A specialist in intellectual property law at Strathclyde University commented that, "If an insubstantial character from a novel is taken and built up by another author in a new story, that can be a defence against copyright infringements."[1]
However, after Lippert offered Rowling an advance copy of the novel, Rowling dismissed her threat[2] and said she supported the novel and any others like it.[2] Lippert subsequently produced a sequel, James Potter and the Curse of the Gatekeeper.[2] After the novel first appeared online in early November 2007, some Harry Potter fans on the Internet initially speculated that the site might be part of an elaborate viral marketing campaign for an official continuation or spinoff of Harry Potter, one either written or at least approved by Rowling herself. On November 9, 2007, Rowling's agent Neil Blair denied that Rowling was in any way involved with the purported project, and Warner Bros., the studio which owns the rights to the Harry Potter film series, denied that the novel was in any way connected to the official Harry Potter franchise.[3]
References
External links