Ad blocker interference detected!
Wikia is a free-to-use site that makes money from advertising. We have a modified experience for viewers using ad blockers

Wikia is not accessible if you've made further modifications. Remove the custom ad blocker rule(s) and the page will load as expected.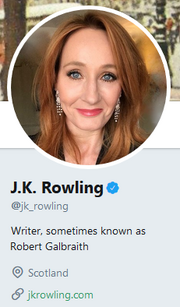 J. K. Rowling has had a Twitter account (@jk_rowling) since August 2009. She uses it to interact with fans and comment on subjects about which she is passionate.
Rowling is known to occasionally reveal new tidbits about the Harry Potter universe through her Twitter account. These are considered canon by the Harry Potter Wiki, on par with interviews, articles or other statements by Rowling.
New canon introduced
2014
LGBT tolerance in the wizarding world
Wicca in the wizarding world
Judaism in the wizarding world
Dean Thomas's religion
LGBT representation at Hogwarts
2015
Destruction of Horcruxes
Fluffy's return to Greece
Hufflepuff hourglass gems
Moaning Myrtle's name
Effect of love on Patronuses
Fred and George Weasley
Porpentina and Queenie Goldstein
Salem Witches' Institute
Absence of wizarding school in New York
Native American magic
Lack of Hogwarts tuition fee
Houses of Fantastic Beasts characters
Vernon Dursley's viewing habits
Luna Lovegood's birthday
International Confederation of Wizards
Goldstein family connection
Rubeus Hagrid's Patronus woes
James S. Potter's sorting
Sirius Black's birthday
2016
Exact location of Uagadou
Native American skin-walkers
Stuart Hogg's magical status
Equivalence between Hogwarts and Ilvermorny houses (or lack thereof)
William the Pukwudgie
Eighteen (sic) Years Later
Rowling later deleted the preceding tweet, as she got the date wrong by one year (the events of the Epilogue take place on 1 September 2017):
Gringotts
Fantastic Beasts and Where to Find Them sequel
Date range of Fantastic Beasts franchise
Newt on visitors to his magical suitcase
Fate of Frank the Thunderbird
Newt's expulsion from Hogwarts
External links
Notes and references