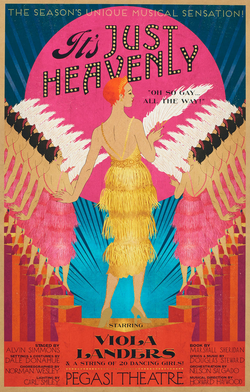 It's Just Heavenly was a No-Maj musical adapted from a book by the author Marshall Sheridan. It featured music and lyrics composed by Douglas Steward.
A production of this play directed by Alvin Simmons was running at the Pegasi Theatre in New York when Newt Scamander visited the city in December 1926. Advertised as "the season's unique musical sensation," it starred Viola Landers and a string of twenty dancing women, who were choreographed by Norman Wesley. Nelson Selgado orchestrated the music and Howard Haywood served as the musical director. The costumes and sets were designed by Dale Donahue and the lighting was done by Carl Smiley.[1]
Appearances
Notes and references
Ad blocker interference detected!
Wikia is a free-to-use site that makes money from advertising. We have a modified experience for viewers using ad blockers

Wikia is not accessible if you've made further modifications. Remove the custom ad blocker rule(s) and the page will load as expected.