"Swift use of this jinx can freeze an attacker for a few moments, or stop a magical beast in its tracks. The jinx is a vital part of any duellist's arsenal."
—Miranda Goshawk introduces this spell in Book of Spells.
The Impediment Jinx, also known as the Impediment Curse, is a spell which impedes forward motion, either slowing or stopping an object or individual, effectively immobilising them for a short period of time. When cast with power, however, it may knock the target off their feet. It has sometimes knocked the target over, but not prevented movement. Whether these variations are accidental in the casting of the spell, or the choice of the caster, is unclear. It can also sometimes just levitate people in an act that is like that of the spell Levicorpus.[1]
Known users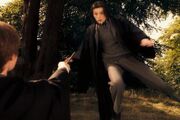 Known uses
Etymology
Impedimenta is devised from the Latin word Impedimentum, meaning "a hindrance".
Behind the scenes
Appearances
Notes and references