"Neither can live while the other survives..."

It has been suggested that this article or section should be merged with Fire Protection Potion.
"Are you a wizard or not?"

The title of this article is conjectural. Although it is based on canonical information, the actual name is conjecture and may be supplanted at any time by additional information released from canonical sources. If this occurs, please move this page to the appropriate title.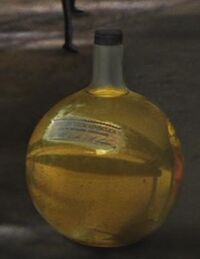 "Danger lies before you, while safety lies behind,
Two of us will help you, whichever you would find,
One among us seven will let you move ahead,
Another will transport the drinker back instead."
—The potions riddle.
The Ice potion is a potion used to move through black flames unscathed. Effect-wise, it is similar to the purple fire potion: it makes the drinker feel an icy surface surrounding him or her, and provides protection for going through the flames safely. This potion was seen as part of a seven-bottle riddle set by Professor Severus Snape, which was used to guard the Philosopher's Stone, and allows the drinker to continue forward to the final chamber, where the Stone is hidden. This potion was placed in the bottle on the far left.[1]
Known Uses
"It was indeed as though ice was flooding his body. He put the bottle down and walked forward; he braced himself, saw the black flames licking his body, but couldn't feel them..."
—Description of the potion's effect
Near the end of the 1991–1992 school year at Hogwarts, Quirinus Quirrell took the potion and proceeded to the final chamber. He was soon followed by Harry Potter, after Hermione Granger identified which bottle contained the correct potion to allow him to proceed.[1]
See Also
Appearances
Notes and references