Ian Hart played Professor Quirrell in the film adaption of Harry Potter and the Philosopher's Stone. Archive footage of Ian Hart as Quirrell was shown in Harry Potter and the Deathly Hallows: Part 2.
Biography
Ian Hart, born in England, began acting while a student in Liverpool, England, United Kingdom. He stumbled into acting almost accidentally, but was cast in the play "The Government Inspector". He continued to work in British theatre and television, and first gained recognition for portraying John Lennon in the British film Backbeat (1995).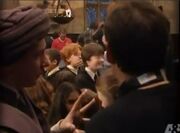 He made many films in his native Britain, occasionally appearing in American films as well. He is currently involved in the Harry Potter franchise.
Filmography
Luck (TV series) (2011)

Hard Boiled Sweets (film) (2011)

Five Daughters (TV series) (2010)

Father & Son (TV series) (2009)
External links
This article about an actor or actress is a stub. You can help by expanding it.