Human Transfiguration
Talk

8
11,620pages on
this wiki
Human Transfiguration
Class information
Professor
Required textbooks
Required equipment
"If only we'd done human Transfiguration already! But I don't think we start that until sixth year, and it can go badly wrong if you don't know what you're doing ..."
—Hermione Granger to Harry Potter on human Transfiguration
Human Transfiguration is a sub-branch of Transfiguration in which one transfigures human body parts or an entire human being into another form. As it is more difficult than other forms of Transfiguration, including Cross-Species Transfiguration, it is N.E.W.T.-level, taught only to sixth years and above at Hogwarts school of witchcraft and wizardry.[1]
Nature
"They had just embarked upon the immensely difficult topic of human Transfiguration; working in front of mirrors, they were supposed to be changing the color of their own eyebrows."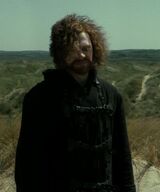 Human Transfiguration can be used to essentially replicate the natural abilities of
Metamorphmagi
, allowing the practitioner or the subject to take on an entirely different form or make various individual changes to their appearance, such as growing or changing the colour of one's hair
[2]
or taking on individual animal body parts. However, while human Transfiguration can presumably be performed by any wizard who's skilled enough, on themselves as well as on others, a Metamorphmagus is born with the ability to make such changes to their own bodies with little to no effort and without the use of a wand
[3]
.
Although it is possible to transfigure humans into inanimate objects[4], it is unknown how someone who had himself transfigured into an object would be able to untransfigure without the intervention of another witch or wizard.
Known instances of human Transfiguration
Prior to 1991
Known practitioners
Appearances
See also
Notes and references