"Are you a wizard or not?"

The title of this article is conjectural. Although it is based on canonical information, the actual name is conjecture and may be supplanted at any time by additional information released from canonical sources. If this occurs, please move this page to the appropriate title.
"An eerie sight met their eyes: they were standing on the edge of a great black lake, so vast that Harry could not make out the distant banks, in a cavern so high that the ceiling, too, was out of sight. A misty greenish light shone far away in what looked like the middle of the lake; it was reflected in the completely still water below. The greenish glow an the light from the two wands were the only things that broke the otherwise velvety blackness, though their rays did not penetrate as far as Harry would have expected. The darkness was somehow denser than normal darkness"
—Harry Potter and Albus Dumbledore as they go into the Horcrux cave
The Horcrux cave was the cave by the sea where Tom Riddle was taken as a child. As Lord Voldemort, he later used the cave to hide Salazar Slytherin's Locket, one of his Horcruxes. The cave was used again when Regulus Black stole the original locket and when Albus Dumbledore and Harry Potter went searching for it.
Dumbledore: "Yes, this is the place."
Harry: "How can you tell?"
Dumbledore: "It has known magic."
— Albus Dumbledore telling Harry about the Horcrux cave
In his childhood, Tom Riddle was brought to a seaside site near this cave on holiday with his orphanage. He discovered this cave and terrorised two fellow orphans, Amy Benson and Dennis Bishop, there. He most likely magicked their way to the cave scaring the children. They never spoke of the incident.
Horcrux hiding place
"Harry turned his head to look at the greenish glow toward which the boat was still inexorably sailing. He could not pretend now that he was not scared. The great black lake, teeming with the dead…"
—Harry Potter in the cave with Albus Dumbledore searching for one of Voldemort's Horcruxes
Voldemort later decided to use this cave as a location for one of his Horcruxes (Salazar Slytherin's Locket). It was a very difficult place to find and even Dumbledore had to make a lot of research about Voldemort's past. Upon storing the locket in the cave, Voldemort set up a large number of complex enchantments, designed to keep others out but still allow him access to the Horcrux, should he desire to visit or remove it. As acknowledged by Dumbledore himself, the defenses that Voldemort had set up within were well-designed in that one person alone could not enter and leave it without assistance.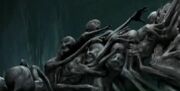 Theft of the Horcrux
The first incursion upon the cave was by Regulus Black and Kreacher after Voldemort asked Regulus Black for a house elf. Regulus Black offered Kreacher and he was taken here. Kreacher was forced to drink the potion and Voldemort left, leaving him to get killed by the inferi. Kreacher disapparated back as Voldemort didn't remember or realise that house elves could apparate in and out. Kreacher told Regulus Black what had happened and Regulus started to hate Voldemort. Regulus worked out that Voldemort had made horcruxes and asked Kreacher to take him back. Regulus got the locket, which was later stolen from the Black family home.
Behind the scenes
Appearances