Slughorn's Staircase[1] is one of the largest staircases in Hogwarts Castle. It extends from the dungeons to the seventh floor. It has another exit on the sixth floor, near Horace Slughorn's office. The layout of the staircase is very similar to the Divination and Defence Against the Dark Arts Staircases, but the bottom (at dungeon-level) seems to have been excavated in the cliffs and, thus, the walls and the staircase itself are rough stone.[2]
Professor Slughorn used this staircase when going to his classroom in the dungeons, whereas Luna Lovegood used it for the first time while going to the Slug Club Christmas party with Harry Potter.[2]
History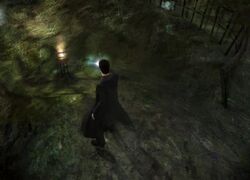 Horace Slughorn used to go down this staircase in his way to the Potions Classroom. The students used the staircase to go from the dungeons to the sixth and seventh floors of the castle. Besides that, Harry Potter and Luna Lovegood used it in their way to Slug Club Christmas party.[2]
Behind the scenes
Appearances
Notes and references
Ad blocker interference detected!
Wikia is a free-to-use site that makes money from advertising. We have a modified experience for viewers using ad blockers

Wikia is not accessible if you've made further modifications. Remove the custom ad blocker rule(s) and the page will load as expected.