Hogwarts: An Incomplete and Unreliable Guide
Talk

0
Share
Ad blocker interference detected!
Wikia is a free-to-use site that makes money from advertising. We have a modified experience for viewers using ad blockers

Wikia is not accessible if you've made further modifications. Remove the custom ad blocker rule(s) and the page will load as expected.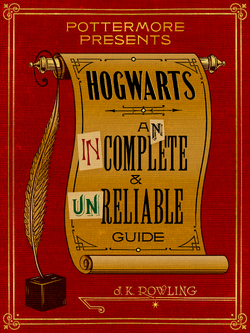 Hogwarts: An Incomplete and Unreliable Guide (from Pottermore Presents, a trio of eBooks) takes you on a journey to Hogwarts School of Witchcraft and Wizardry. You'll venture into the Hogwarts grounds, become better acquainted with its more permanent residents, learn more about lessons and discover secrets of the castle . . . all at the turn of a page.
'The Ministry of Magic felt strongly, however, that to construct an additional wizarding station in the middle of London would stretch even the Muggles' notorious determination not to notice magic when it was exploding in front of their faces.' – J.K. Rowling[1]
Contents
Chapter One: The Journey to Hogwarts
Chapter Two: The Sorting
Chapter Three: The Castle and Grounds
Chapter Four: Lessons at Hogwarts
Chapter Six: Secrets of the Castle
Behind the scenes
Notes and references