A Hinkypunk is a small, one-legged creature which appears to be formed of wispy grey, blue or white smoke. It has a proclivity for luring travellers off their path at night and into treacherous bogs, under the guise of a lamp-bearing being who could help them.
History
Hinkypunks were part of Remus Lupin's Third Year curriculum during his tenure as Defence Against the Dark Arts Professor in the 1993-1994 school year. They were schelued to start study of them on 5 November, however, Severus Snape was teaching the class that day, and insisted on lecturing about werewolves instead.[1] Study on them instead started the following Monday when Lupin returned.[2] Hinkypunks were also part of the Defence Against the Dark Arts exam for that year as one of the Dark creatures in an obstacle course Lupin had set up. Ronald Weasley failed to get past the part containing these creatures, being successfully tricked into getting stuck in the artificial bog.[3]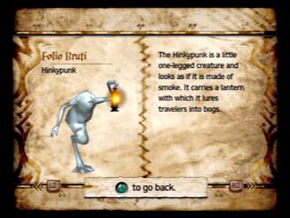 Physical description
Hinkypunks are short and stout in appearance, with large white eyes. Their translucent and cloudy form gives the impression that they are comprised of wispy smoke. This is unlikely, however, as when Lumos Duo is used on Hinkypunks at close-quarters they turn solid (normal smoke is unable to do this). They have a maggoty body shape, with two protruding arms and one thick, supporting leg. The latter feature of their anatomy is the cause of their characteristic hobble. Hinkypunks are renowned for carrying lamps with them, an instrument used to entice travellers into bogs.
Mannerisms
Hinkypunks are represented as impish varmints, who revel in inconveniencing wizards, witches and Muggles alike. They are able to attack victims by propelling fireballs from their lamps. They are also known to sporadically emit hollering and grunting noices.
Removal
Hinkypunks can be destroyed by using the following method[4]:
Cast the Lumos Duo spell onto the concerned Hinkypunk at close-range until it turns solid
While the Hinkypunk is still dazed, attack it with the Flipendo spell 3-5 times
Behind the scenes
Appearances
Notes and references