Harry Potter: "But why's she got to go to the library?"
Ronald Weasley: "Because that's what Hermione does. When in doubt, go to the library."
— Harry Potter and Ronald Weasley on Hermione.
Hermione Jean Granger (b. 19 September, 1979[1]) was an English muggle-born witch and the only daughter of Muggle Mr and Mrs Granger, both dentists in London. At age eleven, Hermione learned that she was a witch and had been accepted into Hogwarts School of Witchcraft and Wizardry. She began attending the school on 1 September, 1991 where she was subsequently sorted into Gryffindor House. She possessed a brilliant academic mind and proved to be a gifted student. She was very studious and bookish. Along with Harry Potter and a few others, she was relatively little intimidated by Lord Voldemort's name, calling him by his name, instead of You-Know-Who or He-Who-Must-Not-Be-Named.
Hermione first met Harry Potter and Ron Weasley aboard the Hogwarts Express. Both boys found Hermione unfriendly and a know-it-all. Later her eagerness to please her professors and her constantly correct answers reinforced their initial impression. However, in spite of the cool relationship between the three, Hermione stepped in to take the blame from Ron and Harry after they had saved her from a troll on Hallowe'en. Harry and Ron were surprised but grateful, and the three quickly became friends. In her second year, Hermione fell victim to a basilisk unleashed upon Hogwarts following the opening of the Chamber of Secrets but was returned from her petrification under the care of Madam Pomfrey with the assistance of Professor Sprout's Mandrake Restorative Draught. The following year, Hermione was granted permission to use, and was sent, a Time-Turner from the Ministry of Magic to facilitate her volition to study far more subjects than was possible without time travel. Later in the year, she and Harry would use the Time-Turner to rescue Sirius Black from the Dementor's Kiss as well as Buckbeak the hippogriff from execution. During her fourth year at Hogwarts, Hermione became an advocate for the better treatment of house-elves, forming the association S.P.E.W. In her fifth year, she was the driving force behind the creation of Dumbledore's Army. Later in her fifth year she fought in the Battle of the Department of Mysteries. In her sixth year she fought in the Battle of the Astronomy Tower and, at the beginning of what would be her seventh year, the Battle of the Seven Potters in 1997. Hermione, as well as Ron — with whom she had become romantically involved — decided not to return to Hogwarts for their final year of studies and instead chose to accompany Harry on his quest to find and destroy Lord Voldemort's Horcruxes. She then fought in, and survived, the Battle of Hogwarts.
Following the Second Wizarding War, Hermione went back to Hogwarts to complete her education at Hogwarts. Later she found employment with the Ministry of Magic, furthering the cause for the better treatment of house-elves, before being promoted to the Department of Magical Law Enforcement. She eventually married Ron Weasley, and together they had two children: a daughter, Rose, and a son, Hugo. Hermione became the godmother of Harry and Ginny Potter's eldest son James.
BiographyEdit
Early life (1979-1991)Edit
Not much is known about Hermione's life before she entered the wizarding world. She was the only child[4] of Muggle parents, Mr and Mrs Granger, both dentists in London. Mr and Mrs Granger were seen as "quite ordinary" and although they were "a bit bemused" by the oddities displayed by their daughter, they were known to be proud of her.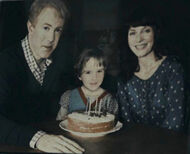 In the summer of
1991
, Hermione was surprised to learn that she was a
witch
and was invited to attend Hogwarts School of Witchcraft and Wizardry. She eagerly accepted and took to studying magic even before she began her first year at Hogwarts in the
September
of 1991, learning all the set spell books by heart and even managing to
perform
"a few spells
" successfully. In addition to the texts set by the school, Hermione brought with her several other books for reference and to further her understanding of the wizarding world.
[5]
Hogwarts years (1991-1997)Edit
Terry Boot: "How come you're not in Ravenclaw? With brains like yours?"
Hermione: "Well, the Sorting Hat did seriously consider putting me in Ravenclaw during my Sorting, but it decided on Gryffindor in the end."
— Hermione at a DA meeting
Hermione enjoyed her years as a pupil at Hogwarts, and took assignments, classes, and school rules very seriously. Her favourite subject was initially Charms, and later Arithmancy, and the only areas of study that gave her trouble were Flying and Divination. Some students, such as Terry Boot, wondered why Hermione was sorted into Gryffindor house rather than Ravenclaw, given her keen mind. Hermione admitted that the Sorting Hat did consider putting her in Ravenclaw. Being sorted into Gryffindor, Hermione would share a dormitory with Lavender Brown, Parvati Patil and two other girls.[6]
But she proved her rightful place in Gryffindor with her steadfast bravery and loyalty to her friends, Hogwarts, and Dumbledore's Army. It is likely that the Sorting Hat put her in Gryffindor in the first place, because she chose to be in it, just like Harry chose to not be in Slytherin; on the train, she mentions that, "Gryffindor... sounds by far the best."
First yearEdit
"Are you sure that's a real spell? Well, it's not very good is it? I've tried a few simple spells myself and they've all worked for me."
—Hermione upon first meeting Harry Potter and Ron Weasley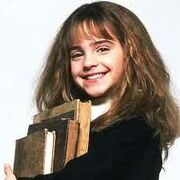 Hermione was a couple of weeks away from turning twelve when she boarded the Hogwarts Express in 1991, where she met Harry Potter and Ron Weasley while helping Neville Longbottom find his pet toad, Trevor. Hermione demonstrated a knowledge and talent with magic beyond most of those her age, despite having only recently discovered that she was a Muggle-born witch. She wished to be a Gryffindor or a Ravenclaw, and her wish was granted considering she did get sorted into Gryffindor. She soon proved to be the best in all her classes, eager to please the professors and to help others learn, albeit in a bossy way that made it difficult for her to make friends.
Hermione attached herself to Harry and Ron, following them around and trying to prevent them from breaking school rules and getting into trouble. On one night, she followed them as they were leaving Gryffindor Tower to duel Draco Malfoy. They were chased by Argus Filch, acting on a tipoff by Malfoy, into the third floor corridor — forbidden to students — where they came face-to-face with Fluffy, a three-headed dog belonging to Hagrid. Later on, she argued that her spying was to their benefit when she pointed out the dog had been standing on a trap door, which Harry and Ron had not noticed.
The friendship between the three was solidified when, on Hallowe'en in 1991, the three were forced to confront a mountain troll. Unaware that a troll was on the loose in the school, Hermione had spent that day crying in the girls' bathroom after overhearing Ron making unkind comments about her. The troll made its way into the bathroom she was in, and Harry and Ron came to her rescue, saving her. When Professors Minerva McGonagall, Severus Snape, and Quirinus Quirrell arrived at the scene, Hermione covered for the boys, claiming she was fighting the troll because she had thought that she could fight one, having read a great deal about them, and that Ron and Harry had merely come to help her escape. From that point on, the three students were best friends.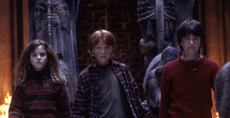 The incident with the troll was by no means her only adventure in that first year. During the first Quidditch match, Hermione set Professor Snape's robes on fire when she thought he was jinxing Harry's broom. In the spring of 1992, Hagrid, a friend of Hermione's through Harry, managed to procure a dragon egg. Hermione along with Ron and Harry helped Hagrid care for the beast which Hagrid named Norbert. When the dragon was discovered, Hermione and Harry helped smuggle it out of the school to some friends of Ron's elder brother, Charlie Weasley. During the night, they were found, and given detention.
Fearing that Lord Voldemort would return if the Philosopher's Stone, which Harry, Ron, and Hermione had divined was hidden in the school, was stolen, Harry decided to steal the Stone first. When he told Hermione that he could go on alone, she rebuffed him. After the trio passed Fluffy, it was Hermione who freed Ron from a patch of Devil's Snare he had dropped into by conjuring Lumos Solem. She later got herself and Harry through a challenge involving a Potion Riddle. Hermione used her logic to figure out the riddle and let Harry go forward without her, as there was only enough potion for one person. Later, at the Farewell Feast in the Great Hall, Hermione, Harry, Ron, and Neville were all awarded extra House Points for bravery and heroism, which won Gryffindor the House Cup.[5]
Second yearEdit
Hermione: "Well, if you two are going to chicken out, fine. I don't want to break rules, you know. I think threatening Muggle-borns is far worse than brewing up a difficult potion. But if you don't want to find out..."
Ron: "I never thought I'd see the day when you'd be persuading us to break rules."
— Hermione convincing Harry and Ron of her plan to use Polyjuice Potion
Before she started her second year, Hermione wrote several letters to Harry, all of which were intercepted by Dobby, as the house elf wanted Harry to believe that his friends had forgotten him in order to prevent his return to Hogwarts. She and her parents also accompanied Harry and the Weasley family to Diagon Alley to shop for school supplies.
It was during her second school year that Hermione first encountered the prejudice and hatred surrounding her blood status, when Draco Malfoy called her a "filthy little Mudblood" after she told him off for insulting the Gryffindor Quidditch team. Hermione had never heard the highly offensive term but looking around at everyone around her, it was an obvious fact. Fred and George Weasley lunged at him, and Ron even tried to hex him, but it backfired, as his wand had been damaged. To help Hermione feel better about the incident, Hagrid urged her not to think about it, pointing out that she was a talented witch, regardless of what bigoted people said about her Muggle-born status
Hermione surprised Harry and Ron with her obvious crush on Gilderoy Lockhart, who became that year's Defence Against the Dark Arts Professor. Ron was very troubled by that fact and it was very obvious that he didn't like that Hermione had a crush on Gilderoy Lockhart. She scored full marks on the first quiz in his class, which contained only questions pertaining to Lockhart's books, including a question regarding his favourite colour (lilac) that most of the class had answered incorrectly. In fact, she went as far as to doodle hearts on her D.A.D.A. assignments, not knowing until later that he was, in reality, a self-obsessed fraud.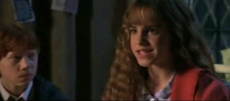 On Hallowe'en, 1992 Hermione attended Nearly Headless Nick's Death-day Party with Harry and Ron. While heading back upstairs, she followed Harry, who claimed to be hearing voices. They discovered the caretaker's cat, Mrs Norris, petrified and the walls vandalised. Hermione began spending all her free time in the Hogwarts Library after she saw the vandalism on the corridor walls, which had said that the Chamber of Secrets had been re-opened. Despite hoping to read about the legend, she could not; as all the books had been previously checked out. Hermione shocked everyone when she actually interrupted Professor Cuthbert Binns during a History of Magic lecture, asking questions about the Chamber of Secrets. This was the only known time when a student asked the boring professor a question, and the class was interested in what he had to say.
Professor Binns had stated that Salazar Slytherin had hidden a chamber which consisted of a horrible monster. It had been unleashed before once, petrifying many Muggle-born and had also killed a Ravenclaw girl, named Myrtle, who began haunting the girls' lavatory. Salazar was angry about the fact that Muggle-born children should be allowed to attend Hogwarts, but he was outnumbered and Muggle-borns like Hermione were allowed to attend the school. Slytherin fled the school, but rumours spread that he had built a hidden chamber; it was said that the school had been searched many times, but no such chamber had been found.
When Harry proposed the theory that Draco Malfoy was the "Heir of Slytherin," Hermione went even further by daring to check Moste Potente Potions out of the library using a note from Professor Lockhart, in the desire to research Polyjuice Potion. She hoped that they would be able to obtain a confession from Malfoy. She brewed the potion in Moaning Myrtle's bathroom, as no one used it. Hermione also risked serious consequences when she stole potion ingredients from Professor Snape's personal cupboards that were needed for the difficult potion, which took a month to brew.
Unfortunately, Hermione was unable to join Harry and Ron in the ruse with Polyjuice Potion because the hair she obtained from Millicent Bulstrode during their scuffle in the Duelling Club was actually the hair of Bulstrode's cat. Hermione grew fur and a tail, and remained in the hospital wing for weeks. Harry and Ron, however, were able to use the potion she brewed to transform into Gregory Goyle and Vincent Crabbe, respectively. They entered the Slytherin common room, and through conversation with Draco Malfoy, realised that he was not the Heir of Slytherin, and was not involved in the opening of the Chamber after all.
Months after her recovery from the Polyjuice complication, Hermione suffered another accident. Drawing the connection between Harry hearing voices in the walls and him being a Parselmouth, she came to the conclusion that the creature attacking students must be a Basilisk, and rushed to the library to conduct further research. On her way back from the library, she warned the first person she saw, Penelope Clearwater, and advised her to look around corners with a mirror before going anywhere. It saved both their lives, because they were both petrified when they spotted the basilisk's eyes through the mirror. Though she was petrified for the rest of the school year, Hermione was still able to assist Harry and Ron, for she had torn out the page on basilisks and scribbled on it "pipes", referencing the manner in which the creature had moved around the school undetected. Using this note and other information they had gathered, Harry and Ron were able to successfully put an end to Lord Voldemort's plans to resurrect his body through his memory stored in an old school diary. Hermione was later cured with a Mandrake Restorative Draught created by Professor Sprout. She was disappointed to learn that, as a special treat for the school, Professor Dumbledore cancelled the students' end of year exams, though intensely proud that her friends had solved the mystery.[7]
That summer, Hermione went on holiday to France with her parents.
Third yearEdit
"P-P-Professor McGonagall! Sh-she said I'd failed everything!"
—Hermione faces her Boggart
Just before she began the 1993-1994 school year, while visiting Diagon Alley with Harry and the Weasley family, Hermione met and adopted a ginger part-Kneazle cat named Crookshanks from the Magical Menagerie. However, her new bond with her cat caused friction with Ron and his pet rat Scabbers, as Crookshanks was always trying to catch the rat. Also at the beginning of this school year, Hermione obtained a Time-Turner from Professor McGonagall so she could double up on classes, though this was kept secret.
When Harry received a Firebolt for Christmas with no note, Hermione reported it to Professor McGonagall, thinking it was sent by Sirius Black, whom everyone believed to be a dangerous murderer who was after Harry. His broom was taken away to be inspected, which caused a temporary rift between the two friends. There was further social strain for Hermione when Ron accused Crookshanks of eating Scabbers, who had disappeared. Hermione poured herself into defending Buckbeak, the hippogriff on trial before the Committee for the Disposal of Dangerous Creatures for attacking Draco Malfoy during a Care of Magical Creatures class. Once the trio reconciled, after Hagrid told Harry and Ron how disappointed he was when they selfishly put the Firebolt and Scabbers over their friendship with Hermione, they apologised. Their attempt to save Buckbeak failed, as Lucius Malfoy frightened the Committee into deciding that the creature would be executed. Hermione was extremely upset by this news and grew furious to the point of slapping Draco when he mocked Hagrid for being upset about Buckbeak's fate.
That year, Hermione was also among the students who found Remus Lupin to be the best Defence Against the Dark Arts teacher they have ever got. Hermione cleverly deduced that Professor Lupin was a werewolf, based on his Boggart taking the form of a full moon, the timing of his unexplained absences from class, and Professor Snape changing a lesson he took over to the subject of werewolves. However, Hermione did not expose Lupin, presumably because she believed he was a good teacher and did not agree with the prejudice many hold against werewolves. Divination, on the other hand, turned out to be a subject Hermione had no respect for or interest in, and soon dropped the subject after Sybill Trelawney told her that she did not posses the second sight. She believed that Divination was an imprecise term of magic. Her hatred for the subject also may have been because of Professor Trelawney.[8]
On the day of Buckbeak's execution, the trio ventured down to console Hagrid. While in his cabin, Hermione discovered Scabbers, Ron's lost rat. Hagrid urged them to leave and they witnessed what they thought to be Buckbeak's execution. Before they could return to their dormitory, Scabbers bit Ron and fled. While chasing after the rat, they were attacked by a black dog, which pulled Ron, by the arm, into a tunnel beneath the Whomping Willow, which then attacked them. Afterward, Hermione and Harry hurried after them eventually arriving in the Shrieking Shack, where Sirius Black, whose Animagus form was the black dog, confronted them. They were soon joined by Professor Lupin who was acting strangely, and Hermione told Harry and Ron of her belief that he was a werewolf, which he then confirmed. It was revealed that Sirius had been framed for the betrayal of James and Lily Potter, and that the true traitor was Peter Pettigrew, who had been hiding from the world as Ron's pet rat, Scabbers. Hermione also cast Expelliarmus on Snape, knocking him out, at which she was horrified.
Once it had been decided that Pettigrew would be turned over to the authorities, the motley group left the Shrieking Shack. When the full moon appeared, chaos ensued as Lupin transformed as he did not take the potion that Professor Snape produced for him. Pettigrew attacked Ron and escaped, and Sirius had to transform in order to protect Harry, Ron, and Hermione from the werewolf. Hermione and Harry rushed to Sirius' aid when they heard him moaning, but then hundreds of Dementors descended on them, come to recapture Sirius. Sirius quickly fainted, and Harry told Hermione to think of something happy and attempt to cast a patronus as he was trying to himself, but they were both unable to cast one. As Harry conjured an uncorporeal Patronus, Hermione passed out leaving Harry to fight the Dementors alone. Harry held them off for a while but was eventually overwhelmed. The Dementors were about to perform the Kiss on Harry, Hermione, and Sirius when a mysterious figure cast a Patronus Charm to repel the Dementors.
Harry and Hermione awoke in the
hospital wing
after being rescued by
Severus Snape
who conjured stretchers for Hermione, Harry and Sirius. After realising that Sirius's soul was to be destroyed by the Dementor's Kiss and receiving vague, though instructive and useful, instructions from
Dumbledore
, Hermione used her