Henry Bumblepuft
Biographical information
Born
Died

Prior to 1991

Physical information
Species
Gender

Male

Hair colour

Black[1]

Eye colour

Dark[1]

Skin colour

Light[1]

Affiliation
Loyalty
Henry Bumblepuft[1] (b. 1493) was a wizard whose portrait hung at the ground-floor landing of the Grand Staircase in Hogwarts Castle.[1] His portrait was painted when he was forty-nine years old.[1]
Etymology
"Henry" is from the Germanic name Heimirich, which means "home ruler", composed of the elements heim, "home" and ric, "power", "ruler". It was later commonly spelled Heinrich, with the spelling altered due to the influence of other Germanic names, like Haganrich, in which the first element is hagan, "enclosure".
Behind the scenes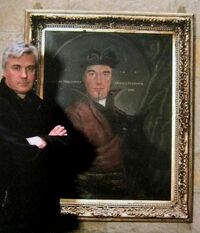 Appearances
Notes and references