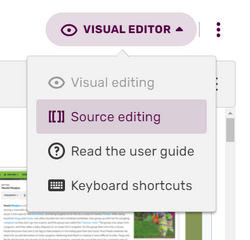 Wikitext is the main markup language used to format content on wikias. It can be used to add photos, tables, bold styles, links, and other visual changes.
It's not necessary to know wikitext in order to edit at Wikia. You can use the visual mode in the classic editor, or the new VisualEditor (where enabled), to avoid it. However, users who learn it find that they have more control over their editing experience. It can be used in 'source mode' in either editor.
To access an article's wikitext...
Classic editor: click the 'Source' tab at the top right of the edit area
VisualEditor: click the menu button towards the right side of the toolbar, and choose 'Source Editor'
Below is a cheat sheet for basic wikitext that you can use while editing. Many of the options listed below have shortcut buttons in the visual editors' toolbars.
See also
Further help & feedback