Healer
Talk

7
11,957pages on
this wiki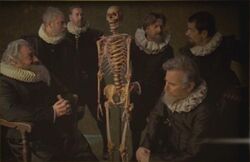 A Healer is the wizarding world equivalent of a Muggle doctor. They tend to the sick and injured at St. Mungo's Hospital for Magical Maladies and Injuries.
Nature
Healers specialise in different problems, from animal bites to cauldron explosions. A Healer's uniform is a lime green robe with a sign of a bone and a wand crossed on it.
There are also Healers at Quidditch games, and one at Hogwarts. Healers use a variety of spells, potions, herbs, etc.
Requirement
To become a Healer, you have to have excellent academic credentials, at least five N.E.W.T.s, with a high mark of either 'Outstanding' or 'Exceeds Expectations' at Potions, Transfiguration, Herbology, Charms, and Defence Against the Dark Arts.
Known Healers
Behind the Scenes
In July 2014, Rita Skeeter had heard rumours that Hannah Abbott had trained to become a healer. It´s unknown if these rumours are true.
Appearances
See also