Hattie Gotobed is a British actress who plays an extra in Harry Potter and the Deathly Hallows: Part 2. [1] She has an older brother, Rohan and an older sister, Melissa, who will both appear in the same film. Rohan will be playing eleven-year-old Sirius Black and Melissa a first-year Hogwarts student. Hattie and Melissa are both reliable students at Footlight Dance Academy.
Appearances
Snow White and The Huntsman
Notes and references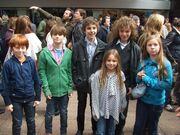 This article about an actor or actress is a stub. You can help by expanding it.