Harry Putter and the Chamber of Cheesecakes
Talk

0
Share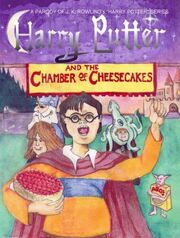 Harry Putter and the Chamber of Cheesecakes is an English parody of J. K. Rowling's Harry Potter series by Timothy R. O'Donnell. The main characters are Harry Putter, Ron Cheesley and Hermione Stranger. They attend Hogwashes School for Wizards and Witches and are on their 6th year (seventh if you count preschool). There is also a sequel, "Harry Putter and the Deathly Hairballs", detailing the adventures of Harry, Ron, and Hermione in their quest to destroy Lord Moldyfart, while students of Hogwashes are in panick. After it rends them to death with its sharp claws, it leaves a hairy ball behind on each of its victims, a sick kind of calling card left at the scene of each murder.[1][2]
Parody's equivalents of real Harry Potter terms
External links
Notes and references
Ad blocker interference detected!
Wikia is a free-to-use site that makes money from advertising. We have a modified experience for viewers using ad blockers

Wikia is not accessible if you've made further modifications. Remove the custom ad blocker rule(s) and the page will load as expected.