Harry Potter and the Deathly Hallows: Part 1 (video game soundtrack)
Talk

0
Share
Ad blocker interference detected!
Wikia is a free-to-use site that makes money from advertising. We have a modified experience for viewers using ad blockers

Wikia is not accessible if you've made further modifications. Remove the custom ad blocker rule(s) and the page will load as expected.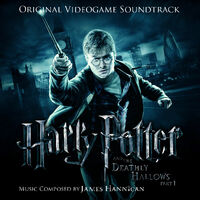 The soundtrack of the video game adaptation of Harry Potter and the Deathly Hallows: Part 1 was composed by James Hannigan. It was recorded by the Philharmonia Orchestra and the Pinewood Singers at AIR Studios in London, England, and conducted by Alan Wilson.[1] Although it was never officially released, its tracks have been made available for download on the game's official site, as well as on James Hannigan's website.[1]
Also, a making-of video was released here .
Tracks
Please note: These are not official titles, as the soundtrack was never technically released.
Main Title
Malfoy Manor
Flight to the Burrow
The Burrow
The Weasley Family
The Wedding
Xenophilius Lovegood
The Will
Wandering Bittersweet
Death Eaters Attack
Grimmauld Place
Shaftesbury Avenue
Dementors
Wandering with Sadness
The Ministry of Magic
Magic is Might
Security Level
Umbridge Office
The Department of Mysteries
Cattermole's Wife
The Muggle-Born Registration Commission
The Thief
Serenity
The Goblin's Revenge
Escape from the Ministry
Godric's Hollow
The Graveyard
Bathilda Bagshot
Tension
Nagini
Silver Doe
The Tale of the Three Brothers
Trap
Night
Searching a Camp
Alone
Snatchers
Captured
Bellatrix
Luna & M. Ollivander
Confrontation
Farewell to Dobby
The Deathly Hallows Theme
Notes and references
External links