Harry Potter and Me
Talk

18
11,956pages on
this wiki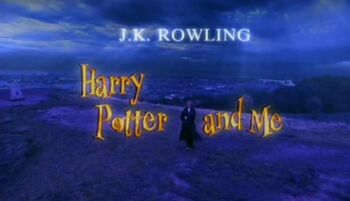 Harry Potter and Me is a Christmas television special by the BBC, broadcast on 28 December, 2001. It is an interview with J. K. Rowling, and is notable for showing pages of Rowling's notes on the Harry Potter series.
New Canon introduced
Notes shown in the documentary details students in
Harry Potter
's
year
, including
Wayne Hopkins
,
Kevin Entwhistle
and
Tracey Davis
. The class list gives us an idea of some of the identities of the remaining students not mentioned in the series. If the year group is to compose of 40 students, 10 belonging to each house, and even distribution of genders, we can create a better picture of the still remaining gaps. In the series we are introduced to 8
Gryffindor
students (
Harry Potter
,
Ronald Weasley
,
Neville Longbottom
,
Dean Thomas
,
Seamus Finnigan
,
Hermione Granger
,
Lavender Brown
and
Parvati Patil
), 4
Hufflepuff
students (
Ernie Macmillan
,
Justin Finch-Fletchley
,
Hannah Abbott
, and
Susan Bones
), 6
Ravenclaw
students (
Terry Boot
,
Mandy Brocklehurst
,
Michael Corner
,
Anthony Goldstein
,
Padma Patil
and
Lisa Turpin
) and 8
Slytherin
students (
Draco Malfoy
,
Vincent Crabbe
,
Gregory Goyle
,
Blaise Zabini
,
Theodore Nott
,
Pansy Parkinson
,
Millicent Bulstrode
and
Daphne Greengrass
) of Harry's year. The addition of the class list gives us 4 further Hufflepuffs (
Megan Jones
,
Roger Malone
,
Oliver Rivers
, and
Wayne Hopkins
), 3 Ravenclaws (
Kevin Entwhistle
,
Stephen Cornfoot
and
Sue Li
), and 1 Slytherin (
Tracey Davis
). The uncertain students to be placed comprise 2 female Gryffindors, 2 female Hufflepuffs, 1 female Ravenclaw and 1 female Slytherin; and we do know that their names are
Sally-Anne Perks
,
Lily Moon
,
Sophie Roper
,
Runcorn
(given name unknown),
Morag MacDougal
and
Sally Smith
.
However, the two female Gryffindors could also be Fay Dunbar and her friend.
According to the following website, however, is is highly likely that there are actually either 54 (8 Gryffindors, 12 Slytherins, 11 Hufflepuffs and 23 Ravenclaws, making 54 students in all) or even possibly 50 students (10 Gryffindors, 10 Slytherins, 9 Hufflepuffs and 21 Ravenclaws, making 50 students in all).
Sometimes, the students mentioned in Rowling's list but not mentioned in the books are only considered half-canonical or even non-canonical.
http://members.madasafish.com/~cj_whitehound/Fanfic/numbers.htm
External links