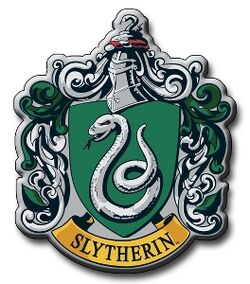 Welcome to the Slytherin Dungeon, where Slytherin users participating in this site's House Points Game can come to seek the advice of their Prefects, or to co-ordinate work. If you are from another House, you may read the discussions here, but please do not post anything.
Prefect's bulletin board
Greetings, members of the House of Salazar Slytherin!
I hope you'll turn your ambition and resourcefulness toward improving the Harry Potter Wiki. Of course, you're probably asking, "What's in it for me?" — the House Cup! Let's show the Prefects just how driven we are to win the House Cup for Slytherin. Here are some general tips on how to earn points:
Revert vandalism
Find and upload images
Expand stub articles
Round out unfinished sections in articles
Take part in an active WikiProject
Answer questions posted on article talk pages
Weigh in on discussions at the Wizengamot forum
I will also suggest tasks on which Slytherins can collaborate from time to time. If you have any ideas, please feel free to bring them up in the "General discussion" section below. If you have any questions, you may go ahead and post them here, or else contact me on my talk page, depending on which you prefer.
— Starstuff, Slytherin Prefect
General discussion
Starting tasks
I think a good place for us to begin would be tying up some loose ends. The following tasks have been left unfinished for several months, so we should focus on completing them, both to improve the wiki and to earn points for Slytherin. :)
Date articles: Go through Category:Dates and create articles for any missing days. Fill in the "Events" sections on all articles. You can use the Timelines on the HP Lexicon to get ideas for things to include.
Infobox formatting: Last year, we changed the format of character infoboxes, but many articles have not been updated to conform with it. I think we should systematically go through all the character categories and re-do the infoboxes as necessary. I've created a category list below, and will add notes to it as we make progress (e.g., what letter we're on in a category), and strike categories when they've been done.
If you have any questions about either of these tasks, feel free to ask. :) ★ Starstuff (Owl me!) 21:50, 20 April 2009 (UTC)
Infobox categories