Harry James Potter
Biographical information
Born
Blood status
Marital status

Married (as of 2017)

Also known as
Title(s)
Signature

Physical information
Species
Gender

Male

Hair colour

Black

Eye colour

Bright green

Skin colour

Light

Family information
Family members
Magical characteristics
Boggart

Dementor (possibly changed after the war)

Wand
Patronus
Affiliation
Occupation
House
Loyalty
"You are protected, in short, by your ability to love! The only protection that can possibly work against the lure of power like Voldemort's! In spite of all the temptation you have endured, all the suffering, you remain pure of heart, just as pure as you were at the age of eleven, when you stared into a mirror that reflected your heart's desire, and it showed you only the way to thwart Lord Voldemort, and not immortality or riches."
—Albus Dumbledore to Harry.
Harry James Potter (born 31 July 1980) was a half-blood wizard, the only child and son of James Potter and Lily Potter (née Evans), and one of the most famous wizards of modern times. In what proved to be a vain attempt to circumvent a prophecy that a boy born at the end of July of 1980 could be able to defeat him, Voldemort attempted to murder him when he was a year and three months old, shortly after murdering Harry's parents as they tried to protect him. This early, unsuccessful attempt to vanquish Harry led to Voldemort's first defeat and the end of the First Wizarding War. One consequence of Lily's protection is that her orphaned son had to be raised by her only remaining blood relative, Petunia Dursley, where he was neither welcomed nor nurtured, but would stay alive, at least until he was seventeen years old. As the only known survivor of the Killing Curse up to that point, Harry was already famous before he arrived at Hogwarts School of Witchcraft and Wizardry.
Early on his eleventh birthday, Harry learned that he was a wizard. He began attending Hogwarts in 1991 and was Sorted into Gryffindor house. While at school, Harry became best friends with Ronald Weasley and Hermione Granger, and later  became the youngest Quidditch Seeker in over a century and eventually captain of his house's team, winning two Quidditch Cups.[11] He became even better known in his early years for protecting the Philosopher's Stone from Voldemort and saving Ron's sister Ginny Weasley from the Chamber of Secrets. In his fourth year, Harry won the Triwizard Tournament, although the competition ended in tragedy with the death of Cedric Diggory and the return of Voldemort. The next school year, Harry reluctantly founded Dumbledore's Army and fought in the Battle of the Department of Mysteries, during which he lost his godfather, Sirius Black, who was a father figure to him.
Harry played a significant role in many other battles of the Second Wizarding War and hunted down and destroyed Voldemort's Horcruxes with Ron and Hermione. During the Battle of Hogwarts, he personally witnessed the deaths of Severus Snape and Fred Weasley, and learned that Remus Lupin, Nymphadora Tonks, Colin Creevey, and many others had fallen as well. He encountered Voldemort and sacrificed himself, knowing that his doing so was the only way to destroy the fragment of Voldemort's soul that was inside him. In Harry's near-death experience after Voldemort cursed him in the forest clearing, Dumbledore gave Harry advice and background information on Voldemort. When told he could choose to live or to "move on," Harry chose to live, and after he awoke he confronted Voldemort, and defeated him.
Harry is also notable for being the only known Master of Death, having united the three Deathly Hallows.
After the war, Harry became an Auror and married Ginny Weasley, with whom he had three children: James Sirius who he named after his father and godfather, Albus Severus, named after Snape and Dumbledore, and Lily Luna, named after his mother and good friend Luna Lovegood. Harry was also named the godfather of Teddy Lupin. He became Head of the Auror Office in 2007, and occasionally went to Hogwarts to deliver Defence Against the Dark Arts lectures.
BiographyEdit
Family lineageEdit
"Now, yer mum an' dad were as good a witch an' wizard as I ever knew. Head Boy an' Head Girl at Hogwarts in their day!"
—Rubeus Hagrid talking about Harry's parents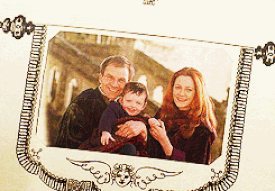 The Potters were an old, wealthy pure-blood family, and Harry inherited much wealth from his father James. The Potters descended from the Peverell family through Ignotus Peverell, who passed the Cloak of Invisibility on to his descendants. The Potters are related to the Gaunts, who are descendants of the second brother Cadmus. From him, the Resurrection Stone was passed onto his descendants as a family heirloom, set in a signet ring.
Conversely, Harry's mother Lily Evans was a Muggle-born, the first witch in her family. Lily had an older sister, Petunia, who was forced to raise Harry alongside her son.
As the Potters were considered a pure-blood family, Harry may possibly be related paternally to various other wizards and witches through families like the Blacks, the Malfoys, the Weasleys, and the Longbottoms,[12] as well as many other pure-blood families. According to the Black Family Tree, Harry may possibly be the grandson of Dorea Potter née Black, which would mean that he was a third cousin of Bellatrix Lestrange, Sirius Black, and even his wife Ginny Weasley, and the third cousin once removed of Nymphadora Tonks. Else, they would be related to him through Dorea's husband Charlus Potter, though the relationship between Harry and Charlus wasn't specified.[13]
Harry's only known maternal relatives were the Evans and Dursley families.
ChildhoodEdit
"Maybe he thought he could persuade 'em... maybe he just wanted 'em outta the way. All anyone knows is, he turned up in the village where you was all living, on Hallowe'en ten years ago. You was just a year old."
—Hagrid on James and Lily's deaths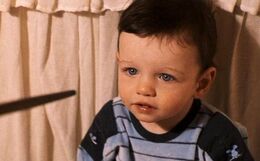 Harry Potter was born on 31 July, 1980 to Lily and James Potter, members of the (first) Order of the Phoenix at the height of the First Wizarding War; he was born "hours" after classmate Neville Longbottom.[14] From birth, he lived in hiding with his parents after Voldemort marked them for death. They lived in the village of Godric's Hollow in a home put under the Fidelius Charm to keep them hidden. They also had planned to make Sirius their Secret-Keeper, but on his advice, they changed this designation to Peter Pettigrew, whom they thought would be less suspicious. In a terrible turn of fate, it happened that Pettigrew was a spy for Voldemort. He betrayed James and Lily, then faked his own death, and framed Sirius for both.
When Harry was born, Lily held a christening; it was quiet and quick, and only James, Lily, Harry and Sirius were there. For Harry's first birthday, Sirius bought him a toy broomstick.The Potters owned a cat but it is unknown what happened to it after Voldemort's attack.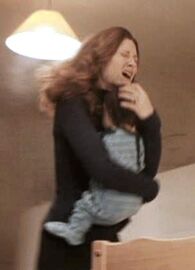 On the evening of Hallowe'en 1981, Voldemort arrived at Godric's Hollow and killed James and Lily; he started with James, who tried to stand up to him; unfortunately he did not have his wand with him and was killed immediately. Lord Voldemort then advanced on Lily, who died protecting Harry. Her sacrifice prevented the Killing Curse from working on Harry. Additionally, her love for Harry became a barrier protecting her son; when Voldemort attempted the curse on Harry, it backfired, and instead of killing Harry, Voldemort lost all his powers and his physical form was obliterated, but was saved from death by the five Horcruxes he had made up to that point. These included his diary, Marvolo Gaunt's Ring, Salazar Slytherin's Locket, Helga Hufflepuff's Cup, and Rowena Ravenclaw's Diadem[15] Later, this also included Harry himself because Voldemort not only gave part of his powers to Harry, he also accidentally gave part of his soul. This event made Harry the only person to have survived the Killing Curse. The failed curse left a lightning-bolt scar on his forehead. The scar would be a bane and a blessing to Harry in the years to come, as it opened a telepathic link between Voldemort and himself.
The house at Godric's Hollow was destroyed in the attack, and Hagrid rescued Harry from the ruined house. Hagrid was given specific orders to take him to his Aunt Petunia and Uncle Vernon, but he was intercepted by Sirius, who pleaded for Hagrid to give the baby to him. Hagrid refused, saying that he was under orders from Dumbledore to get Harry to Privet Drive as quickly as possible.
"This boy will be famous, a legend. I wouldn't be surprised if today was known as Harry Potter day in future. There will be books written about Harry, every child in our world will know his name."
Sirius, though reluctant, relented and gave Hagrid his flying motorcycle to take Harry to Privet Drive. Dumbledore left a letter of explanation to the Dursleys, but they never relayed it to Harry. Instead, Harry spent the next decade of his life in their strict and miserable home without knowing he was a wizard.
Life at Privet DriveEdit