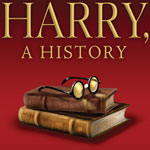 Harry, A History: The True Story of a Boy Wizard, His Fans, and Life Inside the Harry Potter Phenomenon is a non-fiction book written by Melissa Anelli of the Leaky Cauldron website, with a foreword by J. K. Rowling, that chronicles the history of the publication and publicity surrounding the Harry Potter series. It describes the Harry Potter phenomenon, including its online history, in detail. The book was published on 4 November, 2008. It debuted at #18 on the New York Times paperback bestseller list.
Chapters
Foreword: This forword is where Harry Potter author, J. K. Rowling, discusses her life in terms of the series and expresses how much she enjoys the fansite, Leaky Cauldron.
One: Release
Two: The Beginning and the End
Three: Near Misses
Four: Public Assistance
Five: Spinning the Web
Six: Rocking at Hogwarts - A chapter about Wizard rock bands, such as Harry and the Potters.
Seven: Work Life
Eight: Getting a Clue
Nine: Banned and Burned - About the troubles facing the Harry Potter series as people try to ban the Harry Potter series.
Ten: High Seas
Eleven: Access
Twelve: The Interview - The Leaky Cauldron's interview of J. K. Rowling
Thirteen: Independence
Fourteen: On the (Internet) radio
Fifteen: Spoiled
Sixteen: One Day More
Seventeen: Deathly Hallows
Epilogue
Acknowledgments
Notes
Bibliography
Enhanced E-Book
On 5 July 2011, an updated and enhanced e-book was released.
There is a new section called "Four Years Later" in which Anelli discusses events that occurred in the fandom in the years since the original publication of the book, including the opening of The Wizarding World of Harry Potter theme park, conferences such as LeakyCon, the International Quidditch Association, the important work of the Harry Potter Alliance, The Harry Potter Lexicon trial, and StarKid's A Very Potter Musical. There's also a section about Harry Potter not ending, but continuing on into the future.
There is the transcript of Anelli's lengthy interview of J. K. Rowling, with Rowling looking back on her life throughout the years when Harry Potter was being written and published.
There is also some material from interviews with others people, such as Laura Mallory, Christopher Little and Neil Blair, Kris Moran and Mark Seidenfeld, and David Heyman.
List of Audio and Vidoes in the enhanced e-book
Scenes from the PotterCast/Harry and the Potters 2007 tour
Cast and crew of Potter films talking about the end of the Harry Potter series
Clip of Muggle Quidditch
Exclusive trailer for A Very Potter Sequel
J.K. Rowling's exclusive interview with PotterCast
Etymology
External links