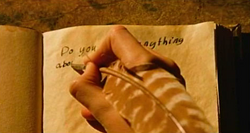 Handedness is a term that refers to having a preference for using, and greater fine motor skill in, one hand over the other.[1] In Muggles, handedness is usually defined by which hand is used to write, while handedness in wizards and witches is more commonly defined by which hand is used to hold the wand.[2] The majority of humans are right-handed.[1]
It is probable that handedness is a factor in wand-making, as Garrick Ollivander asked his customers which was their "wand arm."[2]
Individuals by handedness
Right-handed
Left-handed
Notes and references
Ad blocker interference detected!
Wikia is a free-to-use site that makes money from advertising. We have a modified experience for viewers using ad blockers

Wikia is not accessible if you've made further modifications. Remove the custom ad blocker rule(s) and the page will load as expected.