"Is this all real? Or has this been happening inside my head?"

The subject of this article is of a real-life person, place, group, company, product, or creative work that has been mentioned "in-universe" in a canon source. The Harry Potter Wiki is written from the perspective that all information presented in canon is true (e.g., Hogwarts really exists), and, as such, details contained in this article may differ from real world facts.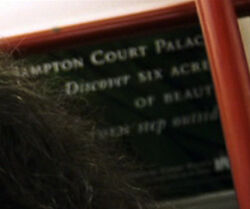 Hampton Court Palace is a royal palace in southwest London.[1] The royal family have not lived in this palace since the 18th century, and, today, it is a popular tourist destination.[1]
On the London Underground train that Harry Potter and Rubeus Hagrid rode on 31 July, 1991, there was an advertisement for Hampton Court Palace, which featured the slogan "Discover six acres of beauty. Then step outside." This was presumably intended to indicate that the palace's interior can be considered as spacious and majestic as its grounds.
Appearances
Notes and references