"There are plenty of eye-witness accounts. Just because you're so narrow-minded you need to have everything shoved under your nose before you–"

This article contains of a list of appearances, but currently has few or no notes and references. Please help the Harry Potter Wiki by adding notes and/or references to bring this article to a higher standard of quality.
The Hall of Hexes is a hall on the seventh-floor of Hogwarts Castle, close to the Room of Requirement.
Behind the scenes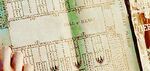 Appearances
Ad blocker interference detected!
Wikia is a free-to-use site that makes money from advertising. We have a modified experience for viewers using ad blockers

Wikia is not accessible if you've made further modifications. Remove the custom ad blocker rule(s) and the page will load as expected.