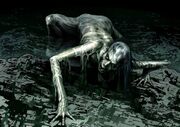 The Haitian National Quidditch team is the national Quidditch team of Haiti; they participated in the 2014 Quidditch World Cup. Prior to the game, rumours were spreading that the team was using Inferi to intimidate other teams. This rumour was declared "malicious and baseless" by the ICWQC [1], but later proved true when Inferi attacked at the 2014 Quidditch World Cup opening ceremony.
2014 Squad
Appearances
Notes and references

Ad blocker interference detected!
Wikia is a free-to-use site that makes money from advertising. We have a modified experience for viewers using ad blockers

Wikia is not accessible if you've made further modifications. Remove the custom ad blocker rule(s) and the page will load as expected.