The ground-floor corridor is one of the many corridors in Hogwarts Castle. It connects the Training Grounds with the main castle via the Training Grounds Entrance.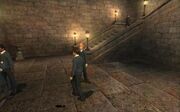 The main entrance to this corridor is from the Training Grounds Entrance. From there the corridor passes the One-Eyed Witch Passage and Defence Against the Dark Arts Staircase and leads to the Suspension Bridge. The corridor ends in the Suspension Bridge Entrance, and the Suspension Bridge Staircase leads up to the Third floor corridor[1].
Appearances
Edit
Notes and references
Edit

This article about a location is a stub. You can help by expanding it.