Gringott
Physical information
Species
Gender

Male

Skin colour

White

Affiliation
Occupation

Head Goblin of Gringotts Wizarding Bank

Loyalty
Gringott was a celebrated goblin who founded Gringotts Wizarding Bank. For the Bank's founding and presumable management, Gringott was featured on a Chocolate Frog Card.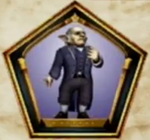 Behind the scenesEdit
Gringott's Chocolate Frog Card does not give out his dates. However, since it is known that Gringotts Bank was already established by 1743,[1] we can assume that he lived sometime in or prior to the 18th century.
AppearancesEdit
Notes and referencesEdit