Greenhouse Three is where Herbology classes are taught to every student, except first-years because in Greenhouse Three there are several plants that they would not be able to cope with.[1] The room has more dangerous species, such as the Venomous Tentacula, as it is for the advanced students. First year students take the class in Greenhouse One, which has no dangerous material.[2]
Content
The greenhouse has four areas: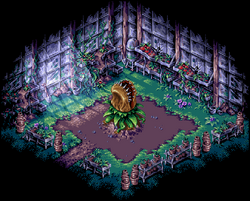 The Herbology Classroom
This area consists on a square-shaped room, with some tables for students and one Venomous Tentacula.
Flora Faction
This area contains all kind of flowers and several mandrakes.
Evergreen Environment
This is an area with a lot of evergreen trees.
Vine Vicinity
This is the largest area. It has a lot of mandrakes, slugs and flora.
History
Pomona Sprout taught her second year students how to pot young Mandrakes.
1993 and after
Pomona Sprout and eventually Neville Longbottom taught advanced Herbology here.
Behind the scenes
Appearances
Notes and references
Ad blocker interference detected!
Wikia is a free-to-use site that makes money from advertising. We have a modified experience for viewers using ad blockers

Wikia is not accessible if you've made further modifications. Remove the custom ad blocker rule(s) and the page will load as expected.