The Grand Staircase Tower is a tower of Hogwarts School of Witchcraft and Wizardry. It is probably the most prominent and recognisable feature of Hogwarts Castle. The tower is a circular shape and has a cone shaped roof.
The Grand Staircase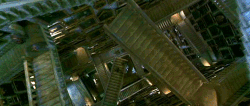 The tower gets its name from the large moving staircases which run through the centre of it. Many portraits are hung on the walls of this tower which freely talk to students walking past.
The Headmaster's Tower
At the top of this tower are three smaller towers which make up the Headmaster's tower and serve as the Headmaster's office and residence. Prior to 1995, the entrance was located on the second floor. However, this changed to the Seventh Floor sometime before the 1996-1997 school year. To gain entrance, a password must be given to a stone gargoyle, which will move aside at the correct password to reveal a spiral staircase with moving steps.
Behind the scenes
Appearances