A gramophone (also called phonograph, record player, or turntable) is a mechanical device used for playing gramophone records.[1]
History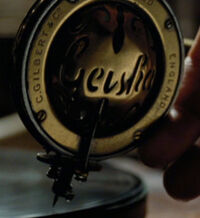 C. Gilbert & Co. Ltd. was a Muggle gramophone manufacturer based in Sheffield, England, which operated from 1922 to approximately 1931.[2] Remus Lupin owned a gramophone from their Geisha line.[2][3] In 1993, he played his copy of Witchita Banana on this gramophone during a third-year Defence Against the Dark Arts lesson on Boggarts, helping put students at ease while they confronted their greatest fears.[3]
In preparation for the Yule Ball in 1994, Minerva McGonagall gave a dance lesson to Gryffindors, having Argus Filch play a copy of Wizard Waltz on a large, magical gramophone.[4][5] The same gramophone can later be seen in the Room of Requirement constantly skipping on a disc.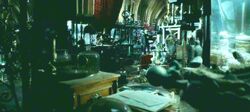 One time in 1997, when Harry Potter knocked on the door of Horace Slughorn's office, hoping to get the memory of Tom Riddle and Horcruxes from him, he heard what he was sure were the quickly stifled sounds of an old gramophone.[6]
Behind the scenes
Appearances
Notes and references