Goodwin's Chocolate Extravaganza was a Muggle brand of chocolate ice cream, produced in Leavesden by Goodwin's Finest Ice Cream.[1] One could contact them on "Freephone" 0080-000000.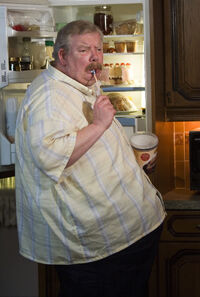 The Dursleys kept at least a box of this ice cream in their refrigerator, which was eaten in the summer of 1995 by Vernon Dursley.[2]
Behind the scenes
Appearances
Notes and references
Ad blocker interference detected!
Wikia is a free-to-use site that makes money from advertising. We have a modified experience for viewers using ad blockers

Wikia is not accessible if you've made further modifications. Remove the custom ad blocker rule(s) and the page will load as expected.