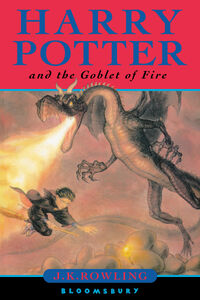 Giles Greenfield is the illustrator who created the cover for the UK and Australian Bloomsbury editions of Harry Potter and the Goblet of Fire. He was supposed to create the cover for the fifth book, but didn't finish it due to his daughter Sasha being diagnosed with a terminal genetic illness. He also writes and illustrates children's books.
Other published works
Some of his other published works include:
World of Mother Goose
The Classic Treasury of Bulfinch's Mythology
Chaucer the Cat
The Animal Pilgrims.
External Links
Ad blocker interference detected!
Wikia is a free-to-use site that makes money from advertising. We have a modified experience for viewers using ad blockers

Wikia is not accessible if you've made further modifications. Remove the custom ad blocker rule(s) and the page will load as expected.