"There are plenty of eye-witness accounts. Just because you're so narrow-minded you need to have everything shoved under your nose before you–"

This article contains a list of appearances, but currently has few or no notes and references. Please help the Harry Potter Wiki by adding notes and/or references to bring this article to a higher standard of quality.
"Are you a wizard or not?"

The title of this article is conjectural. Although it is based on canonical information, the actual name is a conjecture and may be supplanted at any time by additional information released from canonical sources. If this occurs, please move this page to the appropriate title.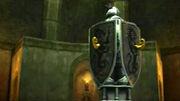 This giant chess mechanism was used by Professor Filius Flitwick in a Carpe Retractum challenge he'd set up as a Charms lesson during the 1993–1994 school year. It had shields and swords with which to attack.
Behind the scenes
Appearances