The German National Quidditch Team is the team that represents Germany for international Quidditch tournaments. They wear purple robes.
Team Special Move
Edit
The Team Special Move, called The Barrenheim Barrage, is played out like football. Todt kicks the Quaffle hard to Blijk, who weaves in and out of the opponents, and then she throws to Todt, who abruptly stops, causing the opposing team to fly past him. The opposing chasers then turn back to see Todt throwing the Quaffle to Brand who leaps into the air and smacks the Quaffle in. Blijk, who was on the other side of the goals, dropkicks it back towards Todt who gracefully leaps from his broom and brutally headbutts it in. Germany then does a victory pose.[1]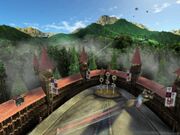 The German stadium looks like a medieval walled city. It even has a fountain within its walls. The
Neuschwanstein Castle
can sometimes be seen in the background beyond the forest.
Emblem and Flag
Edit
The team's emblem is white on the left half and purple on the right with a red phoenix. Their flag is black, red and gold.
Germany qualified for the 1994 Quidditch World Cup.
Germany qualified for the World Cup in Argentina.[2]
German National Team

2014

Chasers
Unknown
Unknown
Unknown
Beaters
 
Unknown
Unknown
 
Keeper
Seeker
Unknown
Thorsten Pfeffer
Appearances
Edit
Notes and References
Edit
Ad blocker interference detected!
Wikia is a free-to-use site that makes money from advertising. We have a modified experience for viewers using ad blockers

Wikia is not accessible if you've made further modifications. Remove the custom ad blocker rule(s) and the page will load as expected.