"Are you a wizard or not?"

The title of this article is conjectural. Although it is based on canonical information, the actual name is conjecture and may be supplanted at any time by additional information released from canonical sources. If this occurs, please move this page to the appropriate title.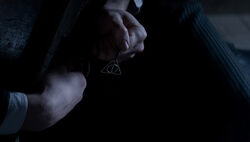 "I want you to have this, Credence. I would trust very few with it... very few."
—Gellert Grindelwald to Credence Barebone
This necklace belonged to the dark wizard Gellert Grindelwald, and was gifted by him to Credence Barebone. It bore the sign of the Deathly Hallows, and was enchanted in such a way that would allow Grindelwald to track the movements of the wearer, and apparate instantly to their location should they have need of him.
Appearances