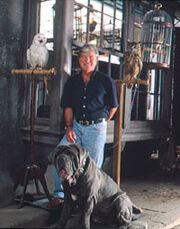 Gary Gero is a widely known animal trainer. His company, Birds and Animals Unlimited founded in 1964 in Lake Forest, California, USA. In the film adaptations of Harry Potter and the Philosopher's Stone and Harry Potter and the Chamber of secrets, he trained the owls for the role of Hedwig, most notably Gizmo; he trained Hugo for the role of Fang; and the cat who portrayed Mrs Norris. [1]
His company has been supplying dogs, cats, birds, alligators, zebras and even flies for films such as 101 Dalmatians, 102 Dalmatians, That Darn Cat, The Indian and the Cupboard and many more.
Notes and references
Ad blocker interference detected!
Wikia is a free-to-use site that makes money from advertising. We have a modified experience for viewers using ad blockers

Wikia is not accessible if you've made further modifications. Remove the custom ad blocker rule(s) and the page will load as expected.