"Neville's arms snapped to his sides. His legs sprang together. His whole body rigid, he swayed where he stood and then fell flat on his face, stiff as a board. Neville's jaws were jammed together so he couldn't speak. Only his eyes were moving, looking at them in horror."
—Description
The Full Body-Bind Curse,[4] also known as the Body Freezing Spell[5] (Petrificus Totalus[1]) is a curse[3] that paralyses the opponent.[3] It is often used by inexperienced or young wizards in duelling.[5] The victim's arms and legs snap together, and he or she will fall down, stiff as a board.[1] However the person's skills to hear, watch (however just straight forward), feel, and think still work properly.
The Full Body-Bind Curse is fundamentally different from petrification, which is highly Dark Magic and which cannot be reversed by a simple counter-curse.[6]
Known uses
Etymology
The root of this curse's incantation seems to be the Latin words petra, "rock", and totus, "whole" or "entire".
Also, pertrificus seems to come from the word "petrify", meaning to turn into stone, or describes a manner in which someone takes on the characteristics of a stone. Totalus likely comes from "Total", meaning complete or wholly. Following this, the spell likely means, entirely petrify.
Behind the scenes
In the Cast-a-Spell training room, when the spell is cast it seems to coat the victim (a snake) in ice.
When Dumbledore immobilizes Harry, the latter says, in wondering how it could have happened, that it was a Freezing Charm (Dumbledore had done so wandlessly and nonverbally). However, less than a few pages later, after Dumbledore is killed, he notes that the Full Body-Bind had lifted.
Appearances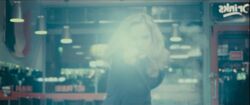 Notes and references