"There are plenty of eye-witness accounts. Just because you're so narrow-minded you need to have everything shoved under your nose before you–"

This article contains a list of appearances, but currently has few or no notes and references. Please help the Harry Potter Wiki by adding notes and/or references to bring this article to a higher standard of quality.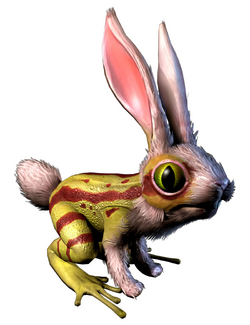 "This unfortunate specimen is an example of what can go wrong when messing around with Conjuring Spells."
Frog-Rabbit is the name given to the result of a half-frog, half-rabbit mutant hybrid created by magical means. It can be a by-product of incorrectly-performed Conjuring Spells, a fact explained by the Principle of Artificianimate Quasi-Dominance.
Appearances