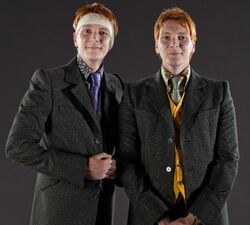 Fred and George Weasley were identical and mischievous twin wizards born on 1 April, 1978 to Arthur Weasley and Molly Weasley (née Prewett). Brilliant pranksters, they co-founded and ran the joke shop Weasleys' Wizard Wheezes and were members of both Dumbledore's Army and the Order of the Phoenix. See their individual articles for more information:
Ad blocker interference detected!
Wikia is a free-to-use site that makes money from advertising. We have a modified experience for viewers using ad blockers

Wikia is not accessible if you've made further modifications. Remove the custom ad blocker rule(s) and the page will load as expected.