Frank Longbottom
Biographical information
Born

between September 2nd 1957 - August 31st 1959 or earlier[1]

Blood status
Marital status

Married

Physical information
Species
Gender

Male

Family information
Family members
Magical characteristics
Wand
Affiliation
Occupation

Auror (formerly)

House

Unkown

Loyalty
"My son and his wife were tortured into insanity by You-Know-Who's followers. They were Aurors, you know, and very well respected within the wizarding community. Highly gifted, the pair of them."
—Augusta Longbottom in 1995.
Frank Longbottom was a pure-blood wizard, an Auror for the Ministry of Magic during Lord Voldemort's first rise to power, son of Augusta Longbottom, and husband of Auror Alice Longbottom.
Frank and his wife, Alice were original members of the Order of the Phoenix and fought against Death Eaters during the First Wizarding War. At the end of the war, when their son Neville was only an infant, he and his wife were tortured into insanity by four Death Eaters, and subsequently placed in St Mungo's Hospital for Magical Maladies and Injuries.
BiographyEdit
Early Life Edit
Little is known about Frank's early life. After graduating from Hogwarts School of Witchcraft and Wizardry, Frank became a well-respected Auror, as did his wife, Alice. At the time Lord Voldemort and his Death Eaters were growing increasingly powerful, Alice and Frank joined the Order of the Phoenix to oppose them.
First Wizarding WarEdit
"The one with the power to vanquish the Dark Lord approaches...Born to those to have thrice defied him, born as the seventh month dies...and the Dark Lord will mark him as his equal, but he will have power the Dark Lord knows not...and either must die at the hand of the other for neither can live while the other survives...The one with the power to vanquish the Dark Lord will be born as the seventh month dies."
—Sybill Trelawney's Prophecy
As Aurors and Order members, Frank and Alice defied Voldemort three times. This made their son, Neville, one of the two young infants who was the possible subject of a prophecy made by Sybill Trelawney about the person who could defeat the Dark Lord. The other infant was Harry Potter, son of Order members James and Lily Potter. Trelawney's prediction was overheard by Death Eater Severus Snape, who informed Voldemort. The Dark Lord targeted Harry, because he was also a half-blood, and was defeated for the first time on 31 October, 1981. It is not known if the Longbottoms were told about the prophecy, as it is not known they disappeared into hiding, nor undertake any action to prevent the Death Eaters to harm the family after Voldemort's fall.
Permanent incapacitationEdit
However, after Voldemort's fall, they were captured[2] and tortured to the point of insanity with the Cruciatus Curse by Death Eaters; Barty Crouch Jr., Bellatrix, Rodolphus and Rabastan Lestrange. Their torture is remembered by the Order as one of the worst crimes ever committed by Voldemort's followers, the Death Eaters.
Frank Longbottom currently resides at St Mungo's Hospital for Magical Maladies and Injuries with his wife Alice Longbottom in the incurable wing. Neville Longbottom lives with his grandmother, Augusta Longbottom, (Frank's mother) and visits them for Christmas and other holidays. Although they do not recognise him as their son, Alice recognises Neville as someone she is fond of.
Personality and traitsEdit
Frank was a well-respected Auror and member of the Order of the Phoenix. It is said that he and his wife were very beloved among the wizarding world. After they were tortured into insanity, he couldn't recognise his son, but Neville still loved them.
Magical abilities and skillsEdit
RelationshipsEdit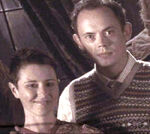 Frank and his wife were Aurors and members of the Order of the Phoenix. They together had a son named Neville. A year after Neville's birth, Frank and Alice were tortured into insanity by four Death Eaters seeking information on their master's downfall. The Death Eaters were life-imprisoned in Azkaban, but Frank and Alice were permanently sent to St Mungo's Hospital for Magical Maladies and Injuries. Neville was very sad about his parents, visiting them at the hospital, although they couldn't recognize him. Frank's mother, Augusta, was also very sad; she had a high opinion of Frank and Alice, and was very proud when her grandson fought in several battles, like his parents.
Order of the Phoenix membersEdit
Other members of the Order of the Phoenix appeared to have had a good relationship with Frank and Alice during the First Wizarding War. Some of them, such as Alastor Moody, were very sad that the Longbottoms were tortured into insanity. Moody also stated that the Longbottoms would have preferred to die than live in insanity.
EtymologyEdit
Frank is an English word meaning free or truthful.
His name could also be from Frank Sidebottom.
The Franks were a Germanic tribe that settled in France and the Netherlands. The name is derived from a word meaning "spear."
Behind the scenesEdit
AppearancesEdit
Notes and referencesEdit
↑ When Neville was born in July 1980, Frank was an Auror (Confirmed by Bellatrix who describes Neville to Voldemort as "the son of the Aurors". in DH). Three years of Auror training would put Frank's graduation from Hogwarts, at the latest, in July 1977. To graduate from Hogwarts in 1977, Frank would have been at Hogwarts from September 1970 to July 1977. To be eleven years old in 1970, Frank would need to have been born between September 2nd 1958 - which would have made him just too young for the 1959 school year and almost twelve - and August 31st 1959 - which would make him just old enough to start in 1960. As well as this, Frank defied Voldemort at least 3 times ("thrice defied" like Lily and James) and may also not have gone straight into the Auror service, so there is at least another year to accommodate for, putting Frank's birth - at the latest - at some point between September 2nd 1957 and August 31st 1959 to fit for him being an Auror at the time of Neville's birth.
↑ In Harry Potter and the Goblet of Fire (film) Igor Karkaroff says: "I know for a fact that this person took part in the capture, and by means of the Criuciatus Curse, torture of the Auror Frank Longbottom and his Wife!" thus confirming that Alice and and Frank were capture and then tortured.