The fourth-floor corridor is one of the many corridors in Hogwarts Castle. It is located on both sides of the castle on the fourth floor.
Layout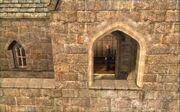 This corridor is accessible via the Grand Staircase. There is a staircase which leads to the balcony and further which leads to the Fourth Floor Hospital Tower Corridor. [2]
Appearances
Notes and references

This article about a location is a stub. You can help by expanding it.