The Forest Troll (Troglodytarum sylvaticum)[1] is a breed of Troll. It has pale-green skin, and some specimens have thin straggly hair that is either green or brown. This breed of troll is native to forests or woodlands.
In 1992, Forest Trolls were seen in the Forbidden Forest, yelling and grunting at any intruder that crossed their paths.[2]
Appearances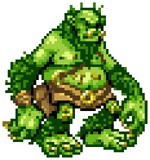 Notes and references
Ad blocker interference detected!
Wikia is a free-to-use site that makes money from advertising. We have a modified experience for viewers using ad blockers

Wikia is not accessible if you've made further modifications. Remove the custom ad blocker rule(s) and the page will load as expected.