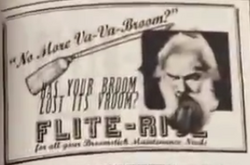 Flite-Rite was a company registered in England that repaired broomsticks. They ran advertisements in the Daily Prophet in both 1926[1] and in 1995.[2] The former used the slogan "Feel Out of Touch With Your Broom?",[1] while the latter featured the slogan "Has your broom lost its vroom?".[2]
Appearances
Notes and references
Ad blocker interference detected!
Wikia is a free-to-use site that makes money from advertising. We have a modified experience for viewers using ad blockers

Wikia is not accessible if you've made further modifications. Remove the custom ad blocker rule(s) and the page will load as expected.