Garrick Ollivander: "Yes, nine and a half inches... inflexible.. rosewood... and containing... dear me.. "
Fleur Delacour: "An 'air from ze 'ead of a veela. One of my grandmuzzer's."
— Ollivander weighing Fleur's wand
Fleur Delacour's wand was 9½" long, made of rosewood, and possessed a Veela hair core. It was described as "inflexible" by Garrick Ollivander.[1]
History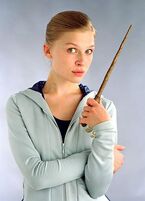 The hair was donated by Fleur's grandmother. When wand was weighed by Mr Ollivander during the Triwizard Tournament, in which Fleur was Beauxbatons, Ollivander used it to create flowers.[1]
Fleur used this wand in all three tasks of the Triwizard Tournament. When facing the Common Welsh Green dragon she used a charm to make it sleepy, and cast the Water-Making Spell to put out her skirt when it caught fire.[2] She used this wand to cast the Bubble-Head Charm for the Second Task at the Black Lake.[3] She would have likely also wielded it during the Third Task, and during the Second Wizarding War including the Battle of the Seven Potters and the Battle of Hogwarts.
Behind the scenes
Appearances
Notes and references