This corridor is one of the many corridors in Hogwarts Castle. It is located on both sides of the castle on the first floor.
Layout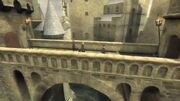 The corridor begins in the Grand Staircase Tower at the first floor level. It connects to the Stone Bridge and passes by the entrance to the Middle Courtyard. Finally it becomes the Tapestry Corridor and enters the Viaduct Entrance.
The first-floor corridor also passes by the Marble Staircase, as the balcony above the Entrance Hall. There is a secret shortcut to the third floor behind a statue on this corridor.[1]
In the 1997–1998 school year The Quad battlements replace the corridor.
Appearances
Notes and references

This article about a location is a stub. You can help by expanding it.