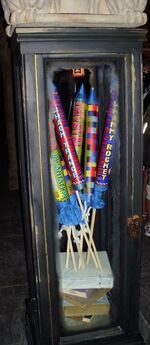 Filch's Emporium of Confiscated Goods is a gift shop visitors enter after riding Harry Potter and the Forbidden Journey located in Wizarding World of Harry Potter Theme Park in Universal Studios in Orlando Florida. It contains Argus Filch's confiscated items from the students of Hogwarts School of Witchcraft and Wizardry.[1]
Items on display from the Harry Potter films include Filch's Secrecy Sensor, a bottle of Skele-Gro, a Fanged Flyer, a Crystal Incantation Comet, and a Whack Trance Whammy Rocket.
Death Eater Mask
Hogwarts House Scarfs
House Crest Pins
Leather Journals
The Marauder's Map
Notes and references
Edit
Ad blocker interference detected!
Wikia is a free-to-use site that makes money from advertising. We have a modified experience for viewers using ad blockers

Wikia is not accessible if you've made further modifications. Remove the custom ad blocker rule(s) and the page will load as expected.